Messen
Exhibitions
Events
European Microwave Week 2021
The European Microwave Exhibition takes place in the historic city of London (4th – 6th April 2022) and is the largest trade show dedicated to Microwaves and RF in Europe, providing:
8,000 sqm of gross exhibition space
Around 4,000 key visitors from around the globe
1,500 - 1,700 conference delegates
In excess of 300 international exhibitors (including Asia and US as well as Europe)
The exhibition will offer its exhibitors an unrivalled opportunity to present products, technological developments and form relationships with relevant and interested spectators including academics, professionals and industry figureheads. It also offers a forum for discussing trends and exchanging scientific and technical information.
BOOTH: TBA
EXHIBITION OPENING TIMES:
Monday 4th April: 9.30 – 18.00
Tuesday 5th April: 9:30 – 17.30
Wednesday 6th April: 9:30 – 15.30
Feel free to contact us to arrange a meeting with our experts during the trade show.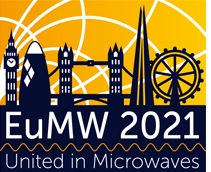 Quick links