Messen
Exhibitions
Technologies for Smart Systems
European Microwave Week 2023
The 26th edition of the European Microwave Week (EuMW 2023) will come to Berlin to continue the annual series of highly successful microwave events that started back in 1998.
The annual European Microwave Exhibition, which is by far the largest RF and microwave trade show in Europe, is held in conjunction with the conferences. The exhibition also includes a series of technical seminars and exhibitor workshops describing commercial products and processes.
The venue for EuMW 2023 will be hub27 at Messe Berlin. The S-Bahn station close by directly connects it to the city centre, the main train station and the new Berlin airport. For details on the venue visit https://www.messe-berlin.de/en/organizers/our-locations/special-locations/hub27.
Booth: 438C
Exhibition opening times:
Tuesday 19th September: 9.30 – 18.00
Wednesday 20th September: 9:30 – 17.30
Thursday 21st September: 9:30 – 16.30
Feel free to contact us to arrange a meeting with our experts during the trade show.
IHP Technology & Service Workshop
Date
The 22nd IHP Technology & Service Workshop will take place on September 20, 2023.
Location
Room: Beta 5
Messe Berlin HUB27, Berlin, Germany
Registration
Please go here to register
Agenda
09:30 – 10:10 IHP's Research & Development for CMOS+X Technology Extensions - A. Mai
10:10 – 10:50 MPW Service for SiGe BiCMOS, Silicon Photonics and Customized Technologies - R. Scholz
10:50 – 11:10 Coffee Break
11:10 – 11:50 Process Design Kit to develop products, serve education and support research projects - F. Vater
11:50 – 12:30 IHP Solutions GmbH Production and Value-​Added Services for Customers' ASICs - A. Gajda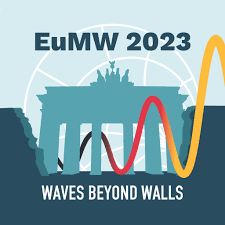 Quick links